Post Event Update–December 13, 2020 @ 10:00 PM
On behalf of everyone at Williamsburg Memorial Park, we'd like to thank the more than 400 families who attended tonight's Annual Holiday Luminary. It was heartwarming to see so many smiling faces as we honored the people we've lost and paid tribute to Williamsburg's first responders.
Of course, none of this would have been possible if it weren't for the tremendous efforts of more than 100 volunteers from Cub Scout Troop 114, their scout leaders, and their families. You guys are awesome!
With all of the events that have been canceled this year, it felt good to finally get a win. And the best part was everyone was able to view this magnificent display from the safety of their own cars. We hope you and your families have a happy, healthy, and safe holiday.

Celebrate the Holidays!
Join us Sunday, December 13 from 5-8 p.m. as we honor those who have lost their lives and pay tribute to the brave first responders who are protecting ours. This is a free event that's viewed from the safety of your own car. For directions, please click here.
About Our Display
Our Annual Holiday Luminary consists of 2,000 luminaries that border both sides of our main loop, which is approximately 1-mile in length. Several hours before this event, members of Cub Scouts Troop 414 and their scout leaders will carefully place and light the luminaries, making sure to comply with the state mandated social distancing rules.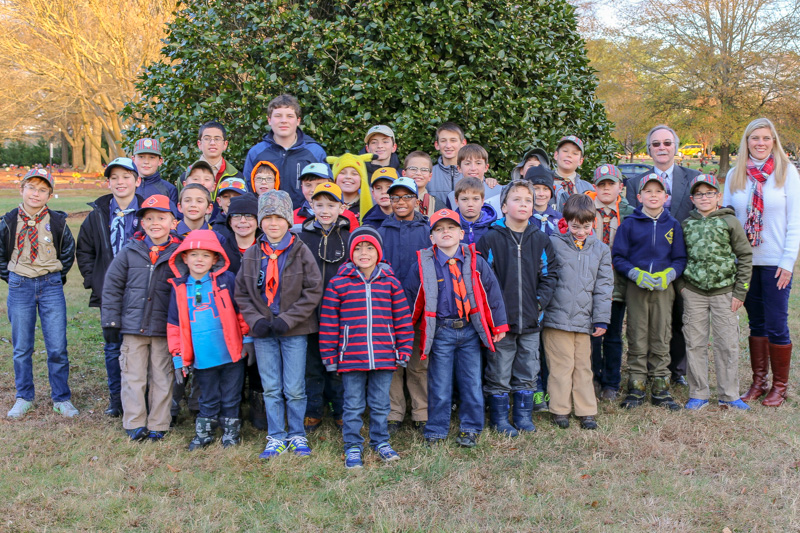 Navigating the Display
When you enter the park, you'll notice a series of lit signs to the right of our main driveway. Simply follow the instructions printed on these signs to begin your tour. Because headlights tend to overwhelm our display, at a certain point you'll be asked to dim yours. Doing so will make this event more enjoyable for everyone who attends. This would also be a good time to turn on your favorite holiday music.

As you continue your tour, please drive slowly and follow the instructions printed on the signs. For your safety, we ask that you remain in your car at all times. Stopping your car or pulling off the main roadway is not permitted as it may damage the display or start a fire. Please note that our Customer Care Center and restrooms will not be open to the public during this event. If you have any questions or need any additional information, please feel free to call us at 757.565.2006.
Luminary Decorating Event—Canceled
Regrettably, our Luminary Decorating Event has been canceled because of Covid-19. We are hoping to resume this family friendly event in 2021. In the meantime, please check out some of the awesome designs from previous years.
Photos from our 2017 Annual Holiday Luminary
To see some of the heartwarming photos from our 2017 Holiday Luminary, please click the links below:

Preparation
Decorating
Display
We look forward to seeing you on the 13th!